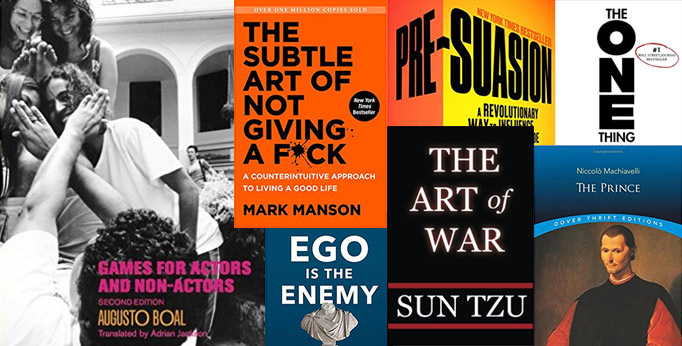 Several month ago I started to collect a list of the Top Agile Coaching Books from various social channels like LinkedIn, Twitter and Facebook. I received so much input from so many people so I decided to divide the book list  into five different categories: Top agile books for Scrum Masters, Product Owners, Agile Developers, Leaders & Agile Coaches.
Some of the book recommendations I received weren't really related to Agile. However I thought that the following books can help Coaches and Scrum Masters to thrive and flourish in their daily work.
In this post I want to show you the Top 10 Non-Agile Books recommend by the Community.
The following list is ordered based on reviews and ratings on Amazon and GoodReads. If you think that there is an important book that should be added on that list, leave a comment below.
Top 10 Non-Agile Books for Coaches and Scrum Masters
| # | Title | Author |
| --- | --- | --- |
| 1 | The Prince (Dover Thrift Editions) | |
| 2 | The Subtle Art of Not Giving a F*ck: A Counterintuitive Approach to Living a Good Life | |
| 3 | The ONE Thing: The Surprisingly Simple Truth Behind Extraordinary Results | |
| 4 | Ego Is the Enemy | |
| 5 | The Art Of War | |
| 6 | Extreme Ownership: How U.S. Navy SEALs Lead and Win | |
| 7 | Pre-Suasion: A Revolutionary Way to Influence and Persuade | |
| 8 | Brief: Make a Bigger Impact by Saying Less | |
| 9 | Disrupt You!: Master Personal Transformation, Seize Opportunity, and Thrive in the Era of Endless Innovation | |
| 10 | Games for Actors and Non-Actors, 2nd Edition | |
Is this list helpful for you?
Do you have further book recommendations?
Provide your feedback below and help us to make this list more useful!
I would appreciate a star rating for this blog post:






(1 votes, average: 5.00 out of 5)

Loading...