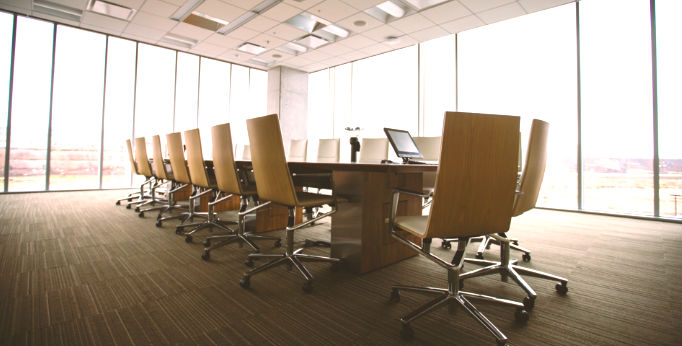 There comes a point in almost every meeting where the presenter is on autopilot, that guy on your left got a new record in 'Candy Crush', others are having daydreaming faces and then there is always this super hero multi-tasking participant that answers emails and chats permanently. We all know these kind of meetings that are useless and a waste of time. This blog post provides you 10 easy steps to create much better meetings and a great tool to reduce the number of pointless gatherings. 
The ugly truth about meetings
In most companies the worst interruptions of all are meetings and unfortunately most of them are toxic. They are meant to be the engine of productivity in the workplace but the truth looks different because many meetings and even workshops are as valuable as a snapchat post: the content pops up and quickly disappears with no outcomes or actions. One meeting leads to another and they require a thoughtful preparation for most of the participants. There is no clear goal due to missing/vague agendas and that makes it easy to drift into off-topics.
Life is too short for crappy meetings
Meetings without purpose are a waste of money and create frustration. Many companies have no clue how much money they are burning on a daily basis with such kind of reunions. Since time is money, I wanted to get a rough feeling how much money a normal meeting costs. I found an app which helped me to calculate the amount of money that is burned per second. It takes the average salary per hour of each participant multiplied by the amount of persons and time. I got a very high number after we spend 2 hours in a room discussing around without any outcome. When I mapped the result of the gathering against the total amount of Euros I could not believe it! And we are talking only about one single meeting.
Consider that the preparation is also a critical component of productivity which does not go into that calculation. Another not-calculated factor is the value that you could have brought to the organization while you were in a meeting. There are thousands of reasons why we should re-check our meeting culture and shut down this burning-money engine. I don't say meetings are not necessary but most of them have to be improved a lot in order to make them great again!

How can we run great meetings?
According to my own experience and researches there are 10 easy steps to create much better meetings:
Start on time – regardless of people who are late
Setup meeting rules (no mobile phones, no notebooks etc.)
Don't book the typical 30 or 60 minutes. Make it more concrete! Try 15 or 10 minutes and make it time-boxed. One hour should be the maximum.
Send out an agenda and material to read before and follow your own agenda in the meeting.
Bring in more activities instead of presentations. Good Facilitators know how to do it! If presentation is needed, rely on as few slides as possible.
Avoid recurring meetings! They're like a law – Once it's there you will never get rid of it! Ask the audience for feedback and agree together if a follow-up session is useful
Make sure you have a very clear meeting goal with success criteria.
In the end of your meeting gather the feedback of the participants and check if it was useful for everybody.
Distribute action items and notes
Check if a short coffee stand-up with 2 or 3 participants is enough for your needs – and bring some cookies :-)
If you have more valuable tips to run better meetings then share it with all readers in the comments below!
---

All these tips sound wonderful, but how can you ensure that your next meeting or workshop will follow these rules? I succeeded in cutting down the number of pointless meetings by using the Meeting Facilitator Canvas by Mike Sutton: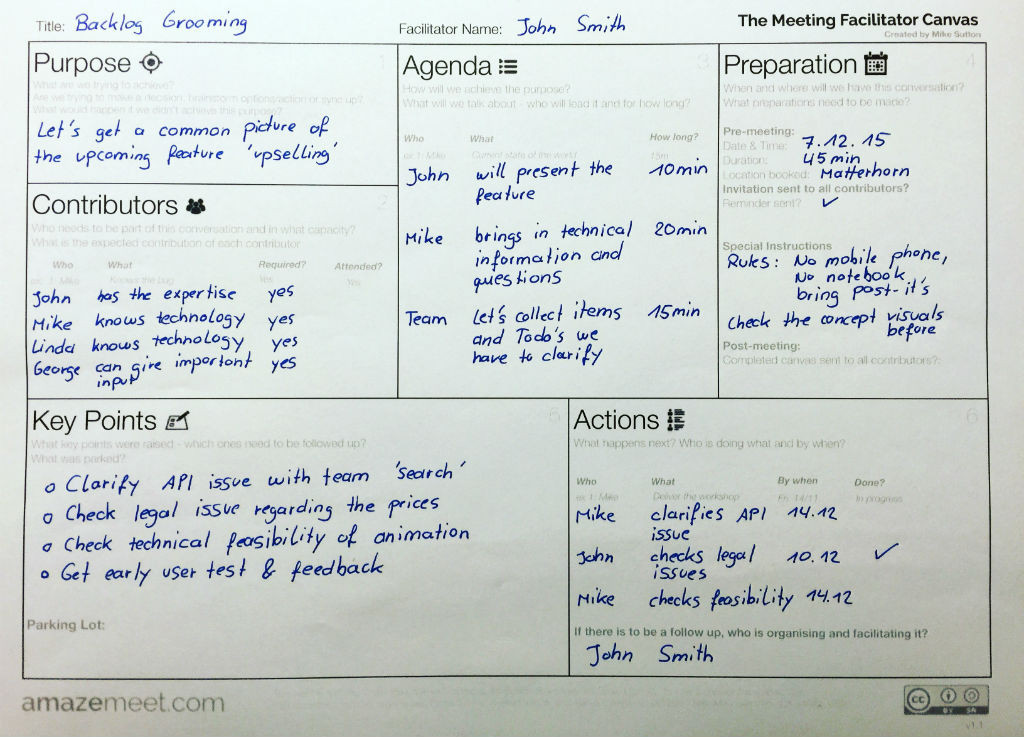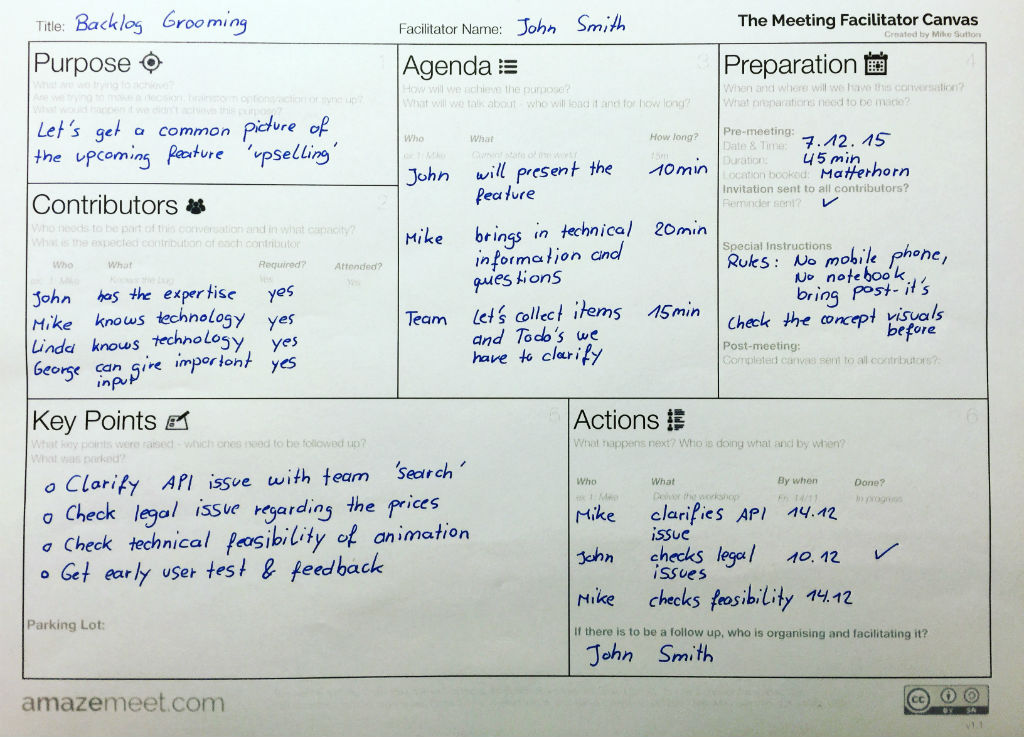 This template is based on the fundamentals of facilitation and the experience of the world's largest companies. It forces the organizer to bring the meeting in shape by answering the most important questions before the invitation is sent out.
How to apply the Meeting Facilitator Canvas
The good news is that you can start right away. Fill up all the required fields and run a fantastic meeting with purpose! On the following picture you can see the recommended usage of the canvas. It's important that no field is skipped otherwise you will not improve. Follow this instruction and send it to your participants: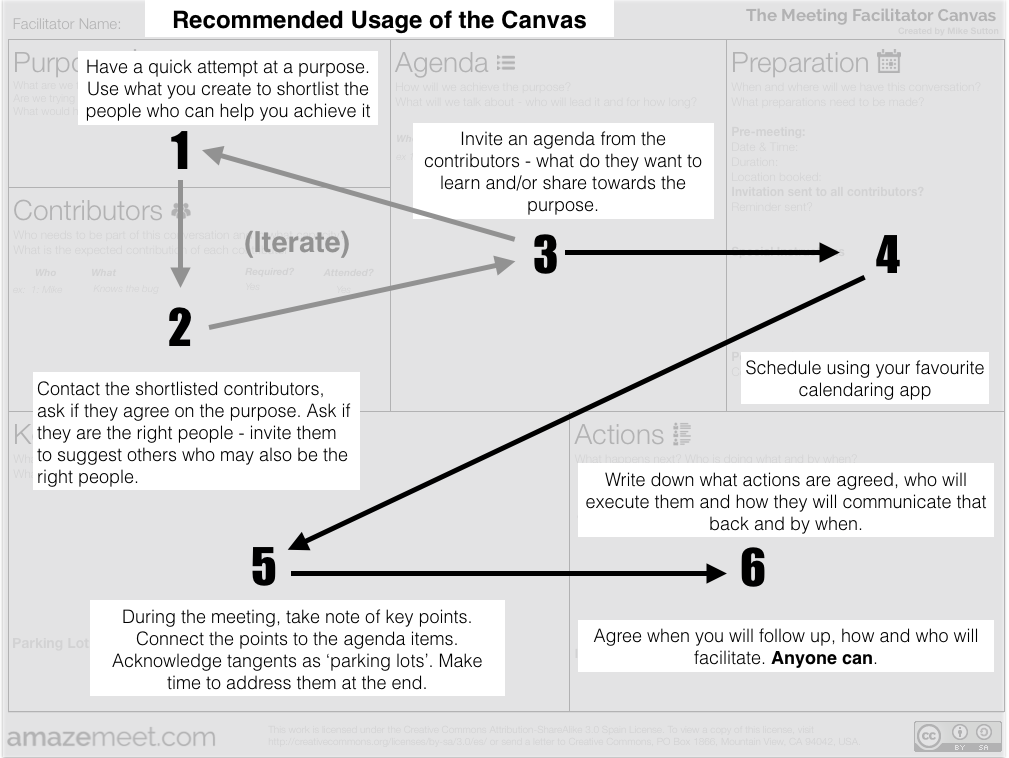 Further Information
There is a great article on how LinkedIn Execs run their meetings! They share a set of best practices that the Executive Team adopts to maximize the likelihood of success for their meetings. They underline the importance of the 3 different phases of a meeting:
Related Links
Your feedback
Do you have some best practices you would like to share? Have you used the Canvas in your company? Your feedback is highly appreciated. Share your opinion with the readers in the comments below!
I would appreciate a star rating






(10 votes, average: 5.00 out of 5)

Loading...