Objective and Key Results (OKR) is a popular framework in goal setting and management that helps organisations implement a solid strategy.
The goal of OKRs is for every member of the organisation – from the key stakeholders and leaders down to the team members – understand the objectives of the company through a set of defined, specific and measurable actions.
The OKR approach has been used by many tech and multibillion companies like Google in Silicon Valley today.

In this article you will learn more about OKR's and how you can apply it in your organization!
With today's complex nature of organisations, team members often find themselves feeling lost amidst the rapid changes that they deal with every day.
Often, the strategic plans and goals of the company are too high-level and abstract that employees don't just feel lost, but also feel discouraged and find lack of purpose.

A little background of OKRs
It is worth knowing that the concept of OKR is not new. The long OKR history started in 1954 when Peter Drucker invented Management by Objectives or MBO.
Later it was recognised in as early as the 1970s. Thanks to the former President of Intel, Andy Grove, who introduced the idea.
Which companies use OKR? OKRs are used by thousands of organisations around the world, including the largest Fortune 500 companies like Zynga, Sears, Twitter, Oracle, and so much more.
Moreover, OKRs are also gaining popularity among small organisations and start-ups, making it possible for them to achieve their goals in a much shorter period of time and accurately measure progress
How OKR works? A typical OKR is made up of 3 to 5 high-level objectives, under which are 3-5 key measurable results are listed. The said key results are measurable through a defined set of indicators or scores (usually between 0 and 1.0. The use of quantitative indicators allows an organisation to check or measure progress.
The frequency of your goal-setting process is called cadence. Just like Google, you may have annual and quarterly goals within your organisation.
For your organisation, you can initiate to add OKR as a critical part of quarterly planning and progress review. However, it can also be done on a monthly or annual basis, depending on the needs and goals of the organisation.
OKRs in each department should have the same time constraint to aid with coordination and avoid complexities. Remember, OKR is meant to be a simple process.
OKR basics article tells you everything you need to know about OKRs.
OKR And Its Benefits
There are many OKR benefits but also certainly OKR disadvantages but you can learn how to deal with them and win in creating effective OKRs for your company.
Leadership experts believe that OKR is one of the leading team management practices that every company should implement.
Why use OKRs? Because it's easy and simple, does not take up so much resources, and helps preserve the company culture, and greatly benefits the organisation, particularly employee productivity and performance.
Impact on Your Business
Studies have shown that employees who used OKR tend to be more effective at their jobs, which results to better performance and increased sales, than those who don't.
Furthermore, team members who didn't use OKRs proactively asked to be part of the OKR process in future cycles.
Company/Organisation Culture Benefits
One of the major benefits of using OKRs is that it allows an organisation to greatly focus on metrics and KPIs. This makes a cultural shift from output to outcomes.
OKRs also create focus, alignment and transparency within the organisation. When combined, these factors lead to a significant improvement in employee engagement.
OKR Framework Overview
Each component of the OKR framework supports the smooth and successful implementation, and thus has an important meaning in the overall process. Aspluswerk consulting suggests, it is best to use the synergy effects of all components on the picture below.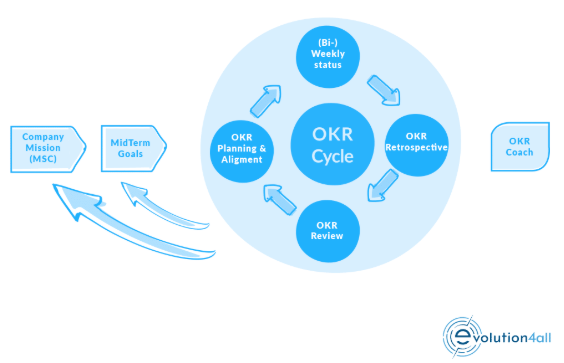 COMPANY MISSION – The company mission is a brief description of the company's vision and purpose, and how they should be implemented.
MID-TERM-GOALS – Mid-term goals (so-called MOALS) are the link between the company mission and the OKR. They are usually defined for one year.
OKR PLANNING – At OKR Planning the respective objective and key results become defined for the entire cycle and at all levels. This is done both top-down and bottom-up.
OKR WEEKLY – The OKR Weekly helps to synchronise the objective and key results implementation and supports self-responsibility as a solid ritual
of the teams during the cycle. The weekly should only take about 15 minutes and should give an overview of the current status of the OKR.
OKR REVIEW – Review meetings are used to determine the degree of achievement at the end of an evaluation cycle. The scoring should be consistent with team standards.
OKR RETROSPECTIVE – During a retrospective, the teams analyse the OKR process from a systematic point of view. What did the team learn? What should be improved in the next cycle?
OKR COACH – As experts, coaches, facilitators, change agents are OKR Coaches responsible for the smooth implementation of the OKR framework in the company and support their teams in the Definition of OKRs and other regular events.
The Cycle Of The OKR Framework
Each cycle has many opportunities for improving teamwork, communication and strategic goals. The following events help:
OKR Planning
Weekly
OKR Review
OKR Retrospectives
During the cycle, objectives and key results are usually not changed unless the company faces an unexpected and extremely important event to which it must respond.
However, this is rare; usually review and retrospective show the potential for improvement for the next cycle.
The sustainable implementation of the OKR framework within a company takes time. It usually takes about 3-4 cycles to get the full pull from OKR.
A meaningful, well-designed implementation plan can significantly reduce the learning process.
Measures such as in-house trainings, the training of OKR Choaches, orientation workshops and moderated planning by experts , review and retrospectives raise the learning quality and speed.
It´s important to note: always stay humble and open for making mistakes and learning new things!
How to set OKR for your team
Step 1: Set the stage
Introduce or re-introduce the concept of OKRs in your team and explain how the KRs are scored and how it affects their performance.
Tell them that OKRs are meant to feel 'uncomfortable' and it's perfectly fine to set an ambitious goal and miss it (as long as they are making progress of course).
Step 2: Identify your objectives
Encourage your team members to participate in the brainstorming process. Your team goals should be aligned to the senior goals (company objectives).
Try to come up with 3 to 5 aspirational objectives.
Step 3: Identify your key results
List down the measurable outcomes that indicate whether you have achieved your objectives. Remember that you're not dealing with tasks. You are dealing with results.
Here's an example:
Objective: Increase profit by 10%.
Key Results:
Launch seasonal campaigns (summer promos, Holiday fares, ) and double the revenue from the past year
Take cash discounts on suppliers to save 10% on purchases
Outsource fleet distribution to stores to reduce cost by 20%
One of your KRs may require collaboration with another team. Follow up with them from time to time and make sure that they're on board.
Step 4: Review and analyse
You may find yourself revising your objectives or key results as you review your initial list. If you're 100% confident that you can hit your KRs, that means you're not being ambitious enough and you're still on the 'safe zone'.
Try to increase your target up to the level that you find uncomfortable.
Step 5: Ask for feedback
Getting feedback is very important, especially for the people who will be involved in the execution. They may have great suggestions to improve your OKRs.
Step 6: Scoring
A critical aspect of measuring Key Results is scoring. You may adopt Google's sliding scale of between 0 and 1. This quantitative metric tells whether you missed, came close to, or hit your target.
Note that the score of .7 on a key result is considered a success more than 1.
This OKR Cheat Sheet will make it easier for your team and organisation to adopt OKR.
OKR at Google: A Case Study
Google Ventures partner Rick Klau gave a very fascinating insight in one of his presentations about how Google sets OKRs. OKR is pretty simple. It starts with setting up an objective and followed by identifying several "Key Results".
At Google, objectives are set annually and quarterly. When Rick Klau took charge of Blogger – a blog-publishing service owned and operated by Google – the objective during one quarter was to improve the company's reputation.
While Blogger was a huge platform and has been around for many years, it was losing popularity as more and more blogging platforms such as Tumblr enter the industry. To improve Blogger's reputation, Klau created 4 Key Results:
Re-establish Blogger's leadership by speaking to at least 3 industry events
Coordinate Blogger's 10th anniversary PR efforts
Reach out personally to Blogger's users
Fix DMCA process and eliminate music blog takedowns
Annual OKRs are more high-level, usually encompassing the quarterly objectives of Google. But these OKRs are not set in stone. They change and evolve as the need arises.
According to Klau, Google also adopts OKRs at managerial and team-levels, even personal levels. This is critical to how they grade their employees and ensure that every single person in the company gets things done and work together to keep the company on track.
By the end of each quarter, everyone working in Google grade their key results.
They adopt a 0-1 scale. The goal is not to reach 1 in every Key Result. Otherwise, it will be assumed that the member has created a Key Result that's too easy. As Klau puts it, the member is 'sandbagging it'. Employees are aiming for a score of 0.6-0.7.
Another interesting practice within Google is that their OKRs are open to everyone. Not only do they see each other's OKRs, but also their scores.
It might seem a little intimidating, but it helps employees in Google understand what each other is working on.
Check other objective and key results examples to help your company set effective goals.
Are OKRs right for you?
Whether you're a CEO, an executive, Ops manager, or a direct manager, using the system of OKRs is a proven way to increase your team's alignment to the company goals, measure performance, provide adequate feedback to your team, and bring out results.
More importantly, setting OKRs gives every leader like you a clear OKR guideline on what to focus on during a given timeframe. By adopting this popular Google strategy, you too can tremendously foster growth and success within your organisation.
If you liked this article and you are looking for a way to align everyone in your organisation, let's have a call or simply download our OKR Guide.
If you're not ready to talk to us yet, attend our weekly OKR webinar.
Thank you,
Luis